West Bohemian Branch
Messiers Marathon 2010
---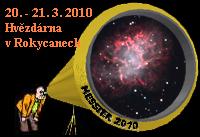 Messier's Marathon 2010 was at night 20./21.3.2010. Unfortunately, even in 2010 the weather did not allow the implementation of the marathon. See you next year!
---
---
Past - old, but not onbsolete information :)
Invitation for 2010 Marathon:
Especially for the felicitous Moons phase in this year is the right moment to Messier's Marathon 2010 night from Saturday to Sunday at 20th - 21th March. All participants will have chance to see all of 110 objects of famous Messier's catalog.
There is nothing to scare about if you are consterned by 110 objects as high number. You can see it by your own time rate and mainly for your own pleasure. Messier's Marathon isn't as serious competition as you can imaged to the first look. First of all it is relaxation and entertainment in group of people with similar interestings concerning to sky and universe.
However the results are noted also. The original diplomas are waiting for the success observers with more than 50 objects. Special price also waiting for most succesful observer.
Presence of participants are at least at 18:00 SEČ (17:00 UT) 20th March 2010.
Fullfill and signed observing form are necessary pass to organizers at least at 6:35 SEČ (5:35 UT) 21th March 2010. Later pass form are not recognized.
Solemnity publication of official results and decorate of winner will by at 6:15 SEC (5:15 UT). Main price is "planetary gamp".
Rules of Marathon and another details are in invitation (CZ) or into this page (EN). Preliminary registration of participants are not necessary.
---
Messier's week 2010
Organizers annunciate Messier's week also in this year considering mostly contrary weather in March for astronomical observation. Messier's week give all peoples more chance for successful observation which will be included into oficial results. Your can "run" your own private Messier's Marathon anywhere on the Earth more than week before oficial Messier's Marathon competition.
Start of Messier's Week will be at night 12th - 13th March. Results are necessary to deliver into Observatory Rokycany at least at 20th March 18:00 SEČ (17:00 UT). All delivered observations will be inserted into total ratings of this year Marathon. Rules about honesty and used equipment are the same as in oficial Marathons. Don't forget entry about night of observing, used equipment and object and time of observation with minutes.
---
Back to main page od Messier's Marathon.
Author: Michal Rottenborn, Rostislav Medlín
Last update: 25. 3. 2010
© 2006-2023 West Bohemian Branch of Czech Astronomical Society